As Colleen and I were flying back home from Portland we were sitting in the Atlanta airport, waiting at the gate for our connecting flight back to Indianapolis, when Colleen whispered to me, "I think the man sitting across from us is well-known or something — people keep coming up to him and asking him to sign things." I looked up from reading email on my Treo and saw sitting directly in front of us, about eight feet away in the seats facing our direction: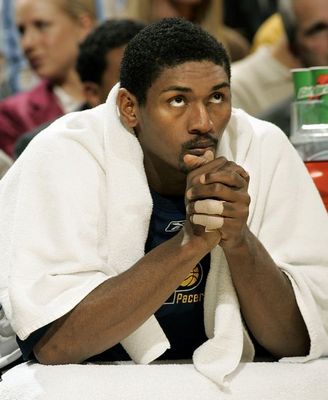 Only he wasn't wearing gym shorts and a white towel over his shoulders… but he was looking directly at me. I quickly looked back down at my email and replied to Colleen out the corner of my mouth, "yep, um, that's Ron Artest."
Ordinarily, Colleen wouldn't recognize the name of any Pacer other than Reggie Miller (who she happened to meet once when he spoke at Cathedral and came into her classroom afterwards), but this name she knew. We were in Chicago with Katharina last November when we turned on the TV in the motel and saw the first news report of a brawl in Detroit that we then found — to our horror and embarassment — involved Indiana Pacers.
The big man sitting across from us at the airport seemed fairly even-tempered — just tired like the rest of us from waiting for too long for the delayed flight. And whenever someone gingerly came up to him to ask for an autograph, he not too unwillingly took the headphones out of his ears, spoke a few words with the fan, and signed whatever they put in front of him.
Nonetheless, I didn't have enough nerve to break out of my cool, world-wise demeanor to go up to him and do the same. I did, however, have the presence of mind to be very, very careful with my Coke when I walked by him to throw something away in the trash.
Tags: Ron Artest, Pacers